If you have a family gathering and the oven is occupied with other dishes, don't worry; there are plenty of creative hacks that can help your ham come out just as tasty as if it had been baked in the oven.
Ham is an American tradition. It's served at family gatherings and on Thanksgiving day with turkey, mashed potatoes, stuffing, cranberry sauce, and pumpkin pie for dessert.
You can buy ham already cooked or cook it yourself. To cook a ham in the oven you need to preheat the oven to about 325 degrees Fahrenheit and cook for about 15 minutes per pound of ham. If you're cooking a whole ham then check the cooking times on the package for more accurate timing.
Great Ways to Cook Ham Without an Oven
1. Slow Cooker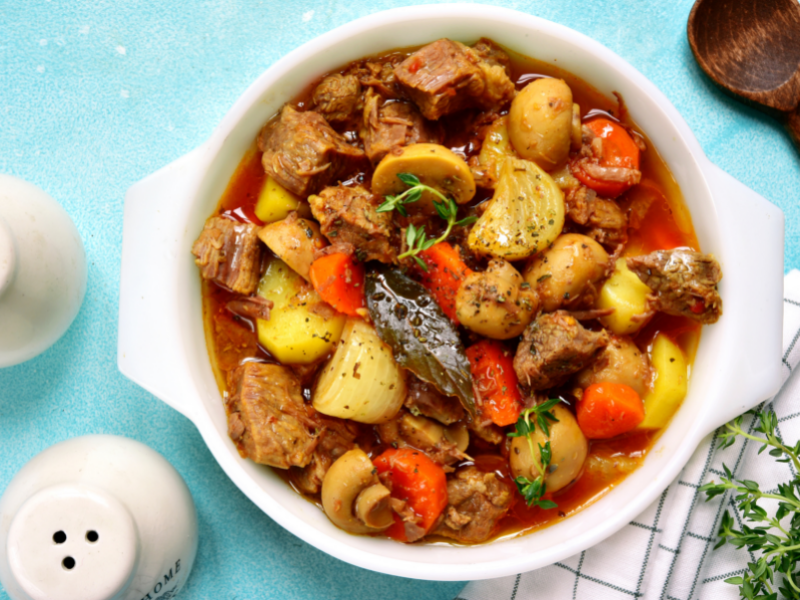 The slow cooker is a more recent invention than the pressure cooker, but it has gained immense popularity in recent years because of its convenience.
A slow cooker is a countertop electrical appliance that cooks food over a long period of time at low temperatures.
There are two types of slow cookers: programmable and manual. The programmable slow cooker has multiple functions such as sautéing, browning, and simmering that can be programmed into the device so you don't have to constantly watch your dish as it cooks.
The manual slow cooker does not have these pre-programmed options, but it typically has a higher cooking capacity than the programmable model.
Slow cookers come in all shapes and sizes, with capacities that range from one and a half quarts to seven quarts.
When it comes to cooking ham in a slow cooker, the biggest decision you'll have to make is what type of ham to buy. There are two types of hams: wet-cured and dry-cured.
Wet-cured hams, such as spiral sliced hams, are injected with a curing solution that keeps them moist during the smoking process. These hams are typically pre-cooked and just need to be reheated before serving.
Dry-cured hams, such as prosciutto or country ham, do not have any added moisture and can be cooked in a slow cooker without drying out.
GTD: use a comma to separate the different types of hams. (wet-cured and dry-cured)
A wet cured ham can be prepped in under three hours, while dry-cured ones require six or more hours for best results. If you're cooking an average size ham that is five pounds or less, a wet-cured ham is your best bet.
If you're cooking a large or bone-in ham, then go for the dry-cured variety.
Place the ham in the slow cooker with some of its juices, and add one cup of apple cider, pineapple juice, orange juice, grapefruit juice, or a combination of these juices.
Cook the ham on low for six to eight hours, or until it reaches an internal temperature of 160 degrees F.
When it's done cooking, remove the ham from the slow cooker and allow it to rest for 20 minutes before slicing. The resulting ham is tender and juicy with a slightly sweet taste.
Get More Ways to Make Carbonated Water Without CO2
2. Barbecue Pit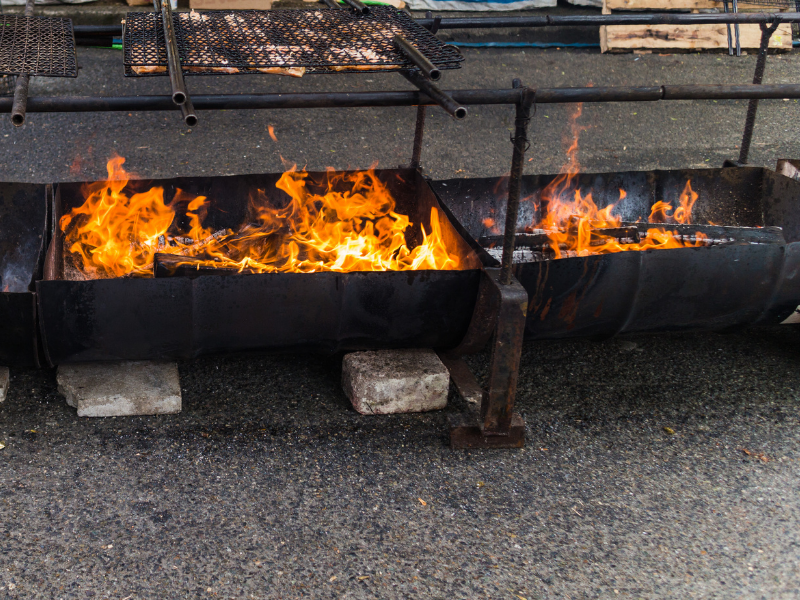 If you have a barbecue pit in your yard already, it's likely that the family has started using it for Thanksgiving Day dinner. If so, don't fret; holiday dinners are not the only time you can use your barbeque pit to cook ham!
Barbecue pits come with racks and drip trays specifically designed for cooking meat like hams. You simply need to adjust the height of your rack or move it slightly closer or further away from where coals will be placed underneath.
You may want to skip this next step if you plan on carving up your ham right after smoking it.
However, one great way to smoke hams is by brining them first before placing them over indirect heat (the fire is placed on one side of the pit and the meat is over the other).
Brining has two purposes: it makes food juicier, and it helps to fight off bacteria. You can brine your ham using a mixture of water, salt (about ½ cup), brown sugar (equal parts), pickling spices like whole cloves or allspice berries (a tablespoon each) and coarsely ground pepper.
If you don't have pickling spices in your pantry already, just put what you need into cheesecloth tied up with twine so that none will be lost during cooking.
Place your ham in this marinade overnight for best results before smoking it at 200 degrees Fahrenheit for about three or until an internal temperature of 145 degrees Fahrenheit.
The only thing better than smoked ham is a good barbecue sauce to go with it! You can buy your favorite brand, or you can make your own using ketchup (about two cups), brown sugar (one cup), garlic powder (a tablespoon) and ground pepper.
Check Out Methods to Thicken Cheese Sauce
3. Pressure Cooke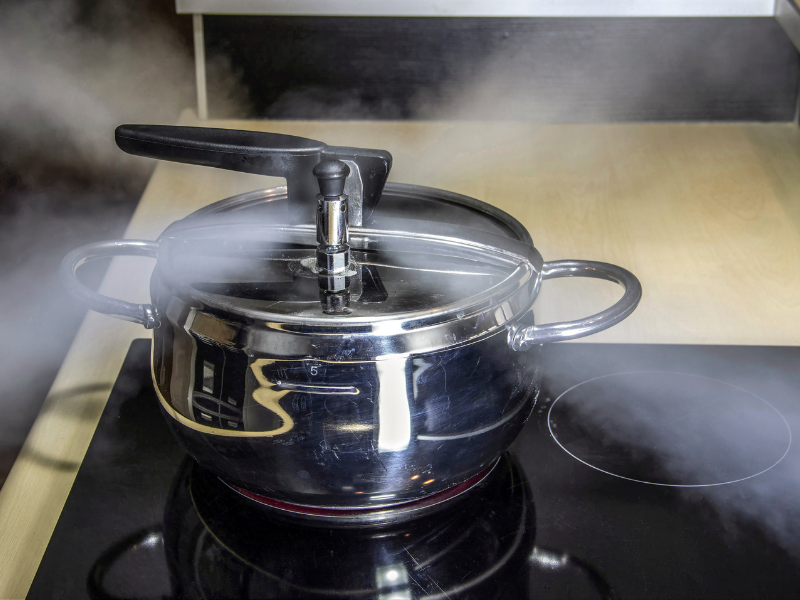 If you don't have a slow cooker, then it might be best to avoid recipes that require braising. However, there are many dishes where you can get away with using a pressure cooker instead of an oven or stovetop.
When cooking meat in a pressure cooker, the heat comes from all sides so your ham will cook evenly and quickly.
The problem with this method is if the ham doesn't fit inside your pot and sometimes even when it does the skin won't brown properly because air cannot circulate around it for proper caramelization.
You can overcome this dilemma by removing some of the skin before putting it into your pressure cooker. That way the pork fat underneath crisps up just as well without the skin.
You can cook your ham with vegetables or other side dishes inside the pressure cooker to make an entire meal, but you should always follow the recipe's instructions instead of just throwing it all in and hoping for the best.
This method is perfect if you plan ahead because most recipes take about 30 minutes after reaching high pressure before they are finished cooking.
Once this time passes, there will be a natural release that allows steam out while keeping your delicious dinner warm until serving. The meat tenderizes so well when cooked under pressure that sometimes people use their electric knives to carve it!
Get More Ways to Froth Oat Milk Without a Frother
4. Toaster Oven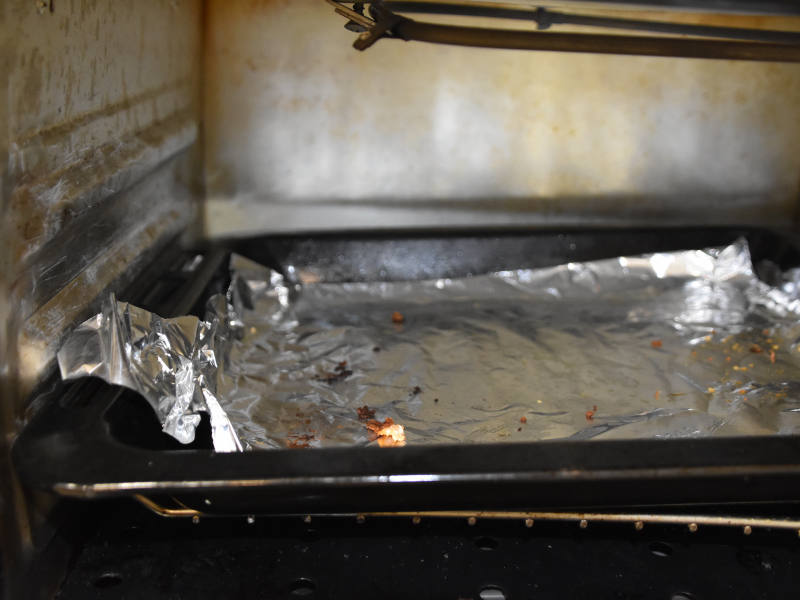 If you want to cook a smaller ham, or if you don't have the time to wait for your slow cooker to do its thing, you can try cooking your ham in a toaster oven.
Turn on your toaster oven and preheat it to 325 degrees Fahrenheit.
While the oven is heating up, take the wrapper off of your ham and place it cut side down in a roasting pan. If you don't have a roasting pan, any baking dish will work as long as it has sides that are at least an inch high.
Pour half of a cup of brown sugar over the top of the ham. You could also use honey or maple syrup instead brown sugar.
Then pour half of a cup of pineapple juice over the top. If you are using pineapples rings, open them up and pour out any liquid inside before pouring it on the ham.
After that, use your meat thermometer to check if the temperature is 145 degrees Fahrenheit. You may need to flip or turn your ham during cooking time in order for an accurate reading.
Once the pork product reaches 145 degrees Fahrenheit, take it out of the oven immediately because overcooking can lead to food poisoning!
You don't have to carve this cooked hame right away unless you plan on eating hot sandwiches off of sliced bread with said meats between them!
The glaze will still be sticky when cold so feel free to slice up some pieces ahead of time and pour the sauce over your ham.
If you want to make sure that no one eats undercooked meat, it's a good idea to check with everyone before serving because some people may prefer their ham cooked more than others.
A small piece of advice: don't eat this dish if you have braces! The leftover sugar will be difficult to clean off your teeth afterwords!
Check Out Delicious Ways to Thicken Deviled Eggs
5. Dutch Oven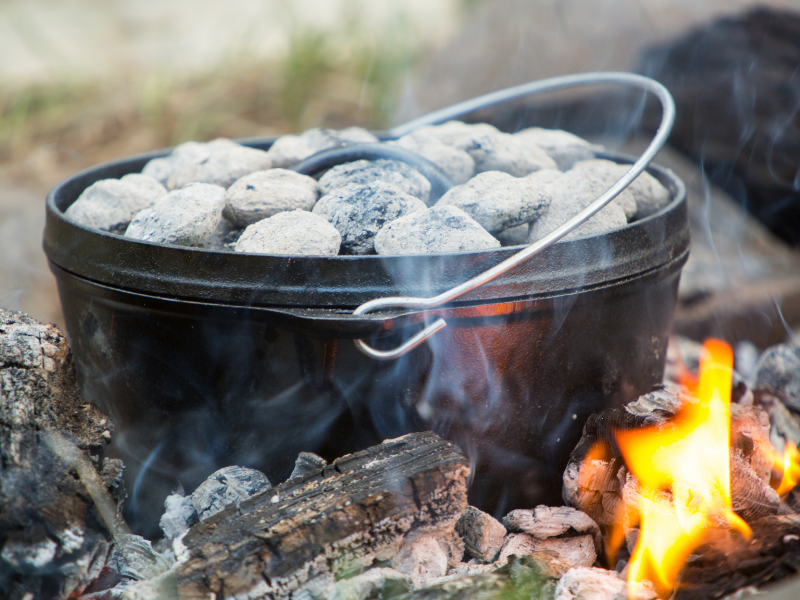 When cooking ham in a Dutch oven, you can either place it on the stove or put it in the oven.
If you decide to use the Dutch oven on your stovetop, turn it onto medium-high heat and pour some oil in. Pour enough so that you can see an ounce or two of liquid over the top of everything else inside.
Once your pan is hot enough for frying about five minutes after adding the oil place your ham into it with fat side down first. Be careful because there may be steam coming out from under it!
Let your meat cook until a brown crust forms before flipping over. The second side will take more time than the one cooking underneath all that glaze, which means you should flip every few minutes while keeping track of how much longer this step takes compared to what you did during previous flips.
Letting too much time elapse between flips will make your ham dry out.
After both sides have been properly cooked, you can take it off the heat and place it in the oven at 350 degrees Fahrenheit.
If you want to thicken up the sauce that was created during frying, put a tablespoon of flour into a pan with two tablespoons of water and stir until combined before adding this mixture to your Dutch oven.
If you're using an oven-safe Dutch oven, just put all ingredients inside and let it cook for about 20 minutes or until the internal temperature of your ham reads 145 degrees Fahrenheit on a meat thermometer. Don't forget to remove the bay leaves before serving!
Get More Delicious Things to Do with Overripe Peaches
6. Crockpot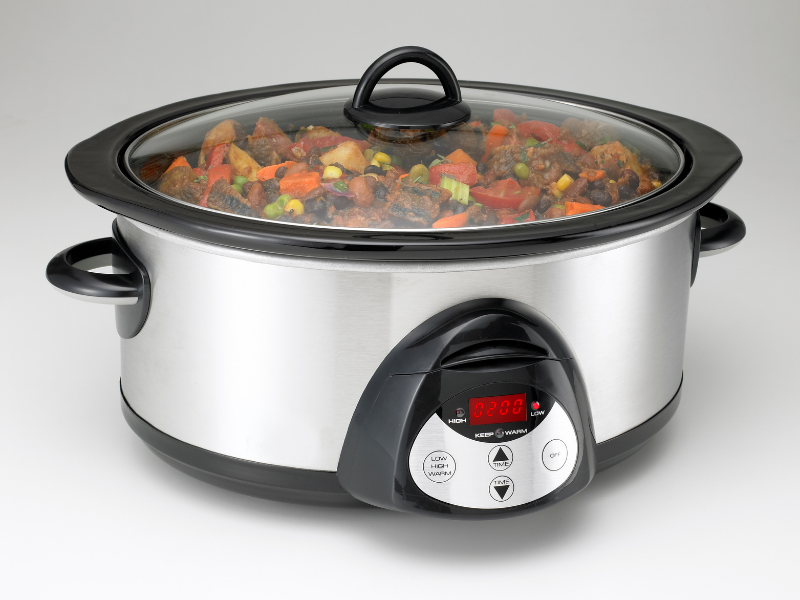 This is probably the most popular way to cook a ham without an oven. All you need is a large crockpot and some time.
Put everything in your crockpot and cook on low for between four to eight hours, depending how many slices of ham you have cut into pieces as well as what size they are. If the meat is larger than a few inches across, then it will need more time to cook through completely.
You can test if done by poking with a fork or small knife; when ready there should be no resistance because the meat will slide right off of it.
If you want some extra flavor added without having too much liquid leftover after cooking ends, simply put water inside instead of oil!
This works best if you're using already-seasoned hams like those that come from Sam's Club or Trader Joe's since they are already full of flavors.
If you don't feel like waiting long enough for your oven to preheat, then this is the way to go because not only does it take less time but there are no dishes involved!
You can even do all of your other side dish tasks while it cooks in order to reduce stress levels on big family gatherings days.
After cooking times have finished, remove ham from crockpot and place onto a cutting board or plate so that juices won't run everywhere when being cut into smaller pieces using kitchen shears or a sharp knife.
Now just wait until everyone starts asking what smells so amazing before bringing out platters with cooked slices piled high on top! Or if there's some left over after the big meal, it will keep in the fridge for up to four days.
You could also try using a crockpot liner which makes clean-up much easier! Just throw away after use and you're all set!
7. Grill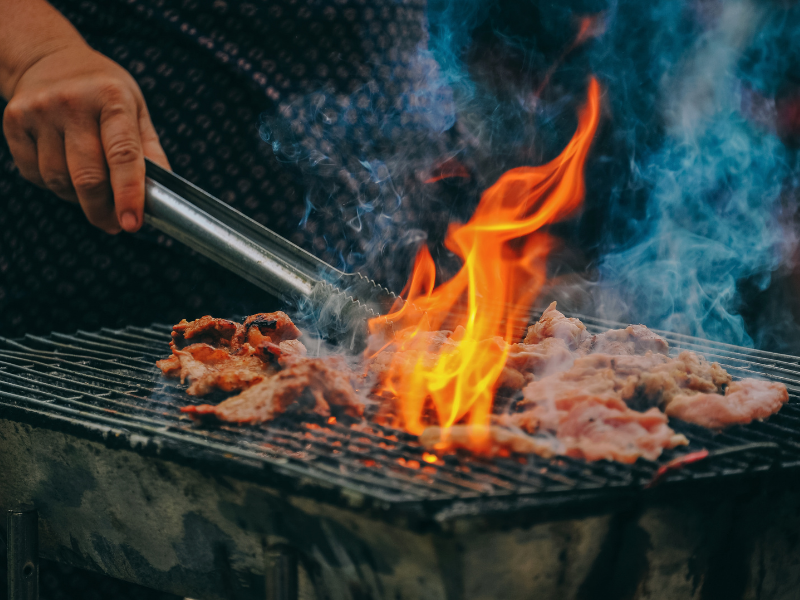 There's no need to feel left out if you don't have an oven or a crockpot. You can cook a ham on a grill!
First, get your charcoal started so it can burn down to embers or place hardwood briquettes in one pile and light them. Next, put the grate over this area of coals not directly onto top of these but rather off to the side just a bit. Once you're sure that your temperature is around 350 degrees Fahrenheit, add some oil before placing your meat over indirect heat source.
The trick here is making sure there are no flare-ups from dripping juices hitting hot flames below because if this happens, you will end up with burnt pieces instead of properly cooked ones.
If this does happen despite all efforts made to prevent it from happening at all then use tongs along with a brush to extinguish any flames and then continue cooking as usual.
If using a gas grill, turn all burners onto medium-high heat before placing the ham over one side of the grill; this is indirect cooking.
Close lid and cook for about 25 minutes per pound or until an instant-read thermometer inserted into the thickest part of the meat registers 145 degrees Fahrenheit.
Remove from grill and tent with foil for about 15-20 minutes so that it can rest and absorb flavors from the juices inside—similar to how you would do if you were oven-roasting it.
You could also try glazing your ham with a sweet and sticky mixture made out of brown sugar, honey, pineapple juice, soy sauce, Worcestershire sauce, and cloves. Just baste it on during the last fifteen minutes of cooking for some extra deliciousness!
8. Air Fryer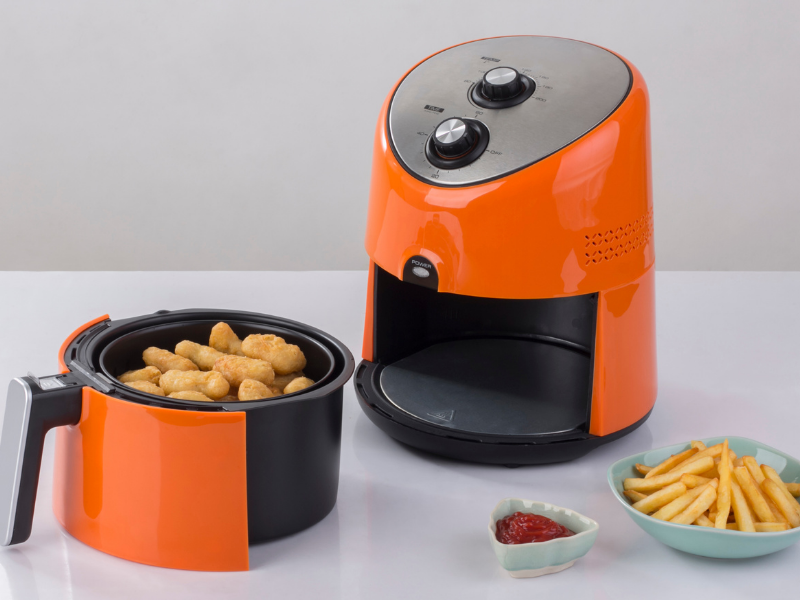 If you're looking for a healthier way to cook your ham, then the air fryer is a great option. The difference between this and other cooking methods is that it uses a current of hot air around the food as opposed to oil.
The first thing you'll need to do before preheating your appliance is line up three aluminum foil balls on top of each other, wrap them in tinfoil, then poke some holes into the center with a fork one for draining excess liquid after cooking ends and two others so you can thread skewers through easily later on down the road once everything has cooled enough.
Place these onto the basket inside your air fryer which should be sitting criss-crossed on top of its heating element or coils at about 325 degrees Fahrenheit if using an electric model like many people have.
Next, place ham in center and cook for around 12-15 minutes before flipping it over. After this, you should check the temperature every five to seven minutes. until your meat registers at least 145 degrees Fahrenheit enough so that the juices run clear when cut into with a knife.
Remove from air fryer basket and allow to rest uncovered for about ten minutes before cutting into smaller slices using kitchen shears or a sharp knife. This will prevent too much liquid from escaping onto your platter once served!
You could also try making honey mustard sauce using powdered sugar, yellow mustard, white wine vinegar, dijon mustard paste (optional), honey (preferably raw but any kind will work), apple cider vinegar if not using Dijon type of spread earlier on, and kosher or sea salt to taste.
Conclusion
The oven is a wonderful invention, but in some cases it just isn't practical to cook ham. If you don't have an oven and aren't looking for healthier alternatives, then try one of these cooking methods instead: grill, air fryer or crockpot.
In the case that you do own an oven and are currently using it to bake side dishes such as dressing or candied yams don't fret!
There are many ways to cook your ham without needing your trusty kitchen appliance.
The key when making decisions about how to cook your meat dish is considering what will work best with the resources available at hand and whether this option fits into any dietary restrictions (such as veganism).
It might take a little bit of experimentation, but with some creativity, you can definitely make everyone happy at the dinner table.